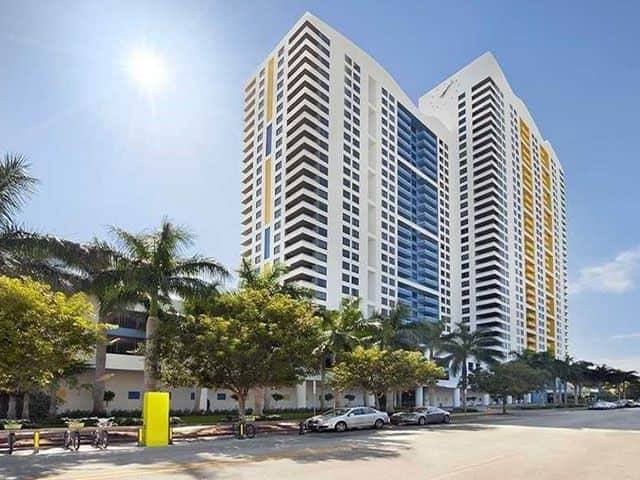 Home
Miami Beach
Waverly South Beach
SPECIAL PRICES
Waverly South Beach
1330 West Ave, Miami Beach, FL 33139, USA
FOR SALE 0
FOR RENT 0
SALE PRICE RANGE $0 - $0
RENT PRICE RANGE $0 - $0
BEDROOMS 0 - 0
STORIES 0
UNITS 0
YEAR BUILT 0
Waverly South Beach Condo Properties
Waverly South Beach offers luxury residential condo units for those who love the convenience of city life while enjoying the quiet and calm of their own home. Properties Miami can be your top real estate partner in your goal to achieve the best of both worlds. Our team can offer you the best deals in Waverly South Beach condos that feature modern interior and comfortable living space. We have exclusive access to the latest listings for studio-types, one-bedroom and multiple bedroom units. Our commitment is to provide you your ideal home in Miami Beach that perfectly suits your family's needs or personal lifestyle. Our team can assist you whether you're planning to buy, sell or rent a property in Waverly South Beach. Call us in your most convenient time and let us know how we can help.
Waverly South Beach Condos for Sale and Rent
Waverly South Beach Condo Sizes
List of condo sizes in Waverly South Beach building.
2-Bedroom Condo Size: 1,127 sqft.
Waverly South Beach HOA Fees
List of Waverly South Beach homeowners association monthly fees. These fees are based on the square footage of the condo and are due to the homeowner.
1-Bedroom HOA Fee:$983 per month.
Waverly South Beach
Request Details
+1 (786) 505-4939
Call Us
Waverly South Beach Location
1330 West Ave, Miami Beach, FL 33139, USA
Waverly South Beach Key-Points For Buyers & Sellers
Waverly South Beach Properties For Sale And For Rent
Properties Miami is your top ally in finding the best deals for Waverly South Beach condos for sale and for rent. We offer advanced property search that exposes all the latest available listings for condo units with the best price offers. Our local real estate agents in Miami Beach have exclusive access to the great deals that are being offered in Waverly South Beach. They can assist you in finding a property that perfectly suits your budget and preferences in terms of size, location and amenities. Whether you're looking to buy or to rent, we can offer you expert advice on how to achieve your dream home.
Owner Financing For Waverly South Beach
We can reveal to you all available condo units in Waverly South Beach which you can acquire through owner financing options. Our local real estate agents based in Miami Beach can discuss with you the terms for down payment and regular monthly rates based on the conditions laid down by the seller. Owner financing offers a convenient solution for home buyers who are unable to file for mortgage. If you want to find out more how you can acquire a property in Waverly South Beach through this option, our real estate agents would be happy to answer your queries.
Selling Your Waverly South Beach Condo Unit
Properties Miami can expose your property in Waverly South Beach to hundreds of prospective buyers and investors as soon as you decide to list and sell your property with us. We will make sure that your property will get the best exposure it deserves in the real estate market by making sure that it reaches serious buyers who are currently looking for investments in Waverly South Beach. Our local real estate agents in Miami Beach also make use of efficient marketing tools that enable them to negotiate only for the best price.
Waverly South Beach Properties Private Cash Buyers
Are you looking for ways to sell your Waverly South Beach property the fast and easy way? We at Properties Miami maintain a database of private cash buyers who are constantly looking for investment properties such as condo units that are for sale in Miami Beach. Our real estate agents can help you find the perfect buyer for your Waverly South Beach condo unit and can negotiate for the best price. Our realtors are equipped with highly-specialized marketing skills that enable them to achieve the best value for every property we work on.
Waverly South Beach Rental Properties
Properties Miami can help you find the best Waverly South Beach rental property that suits your needs and lifestyle. We understand the unique needs of our clients in Miami Beach especially families that need extra living space with multi-bedroom units or single city-dwellers who prefer studio-types with balcony, and even start-up couples living on a budget that can do well with one-bedroom flat. Our realtors that handle Waverly South Beach rental properties can provide various options to suit every client's living standards and financial aspect.
Waverly South Beach Local Real Estate Agents
We have specialized real estate agents that handle Waverly South Beach properties. These are local realtors who are either residents of the building or just live nearby. Either way, our local agents are very familiar with the city and can provide you with all the information you need to know such as the private amenities of Waverly South Beach, nearby shops and business establishments, hospitals and access to public transport. They know the market value of various properties within Miami Beach thus you can count on them to provide you with accurate figures and price range.
Waverly South Beach Property Management Service
Properties Miami is one of the experts when it comes to Waverly South Beach property management services. We can handle the marketing aspects of your Waverly South Beach property including tenant screening and contract management. You can count on us to manage your property from an owner's perspective by taking care of timely rent collection and routine maintenance. We'll make sure that your Waverly South Beach property is generating regular cash flow so you can focus on your other concerns. Our full property management service also include comprehensive accounting and reselling when time comes that you want to put your Waverly South Beach property in the real estate market.
Waverly South Beach Reviews (0)